This morning was our last morning together with Dave and Laura and John and my last day of being meanderers.
Once we get to Mackay we will hire a car and head home , out of retirement and back to the real world of work. It was fantastic while it lasted and obviously too good to be true. We hopefully will work on getting back into retirement at some stage in the not to distant future.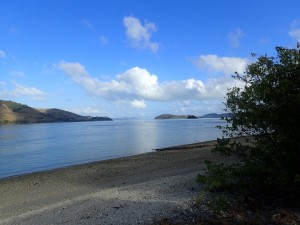 Morgs and I went for a walk past the airport to the only off leash area on Hamilton island, a dry sandy sports oval. We played ball until Morgan was puffing and panting which didn't take long in the heat with her coat getting too long. We called for the boys to pick us up in the cart then went to the local cafe for breakfast.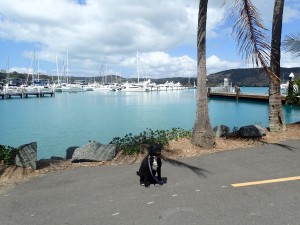 After a quick trip to the lookout in the cart we headed back to Ovive for packing for Laura and Dave, and office work for us.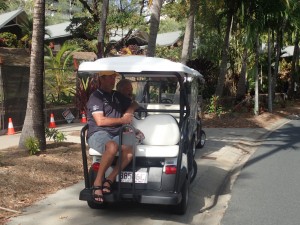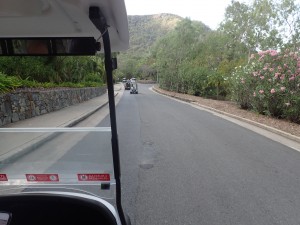 Dave and Laura pushed us off about 10:45 which conveniently coincided with them having to be at the airport at 11;00. then we turned south.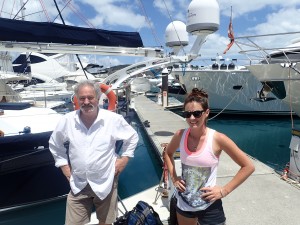 Apparently we had a lovely sail past Shaw Is and the Goldsmiths, according to John. I only saw my computer and the inside of the boat. John made quite a few phone calls from the helm seat so the day was not as relaxing as we were used to.
We arrived at Mackay about 5:30 which wasn't bad going and tied up on X45, exactly where we tied up back in June.
John secured the boat with extra mooring lines as we probably wont get back for three or more weeks while I lowered the screecher and stowed it in a locker. We took a stroll up to the bar and had a well earned beer and Kahlua and walk for Morgan.
Dinner was made up from scraps as we need to empty the fridges out tomorrow before departing Friday.
We have hired a car to be pick up at Mackay airport and drop off at Grafton airport as our cars are in Maclean. When we come back to Ovive it will be a quick trip down as we wont have much time and she needs to be back in Yamba by Christmas to avoid the cyclone season.
So I am signing off this blog until the next time we travel. Thank you to all who have read and enjoyed our travels and to friends we have met along the way who we  will keep in touch with.