Sunny Wind 15 – 20 SE dropping 10 – 15 on Sat    40 nautical miles
We have arrived back at our favourite  dwelling to take her the final leg home and decided to leave O'vive on the Gold Coast temporarily due to time constraints. She also needs an antifoul and check as we haven't hauled her out since Oct 2014.
The weather was blowing strong southerlies so we spent a relaxing day in the marina getting organised for the first day of 2016.
The next morning, Sat the 2nd we headed out in a 10 – 15 knt breeze. By the middle of the day the south easterly wind had dropped to about 8 knots hopefully flattening the sea for our trip south in the next few days.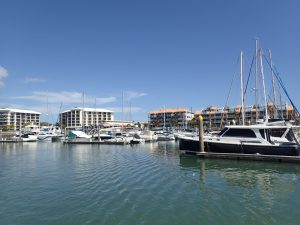 We alternated between the jib and screecher slowly travelling southwards.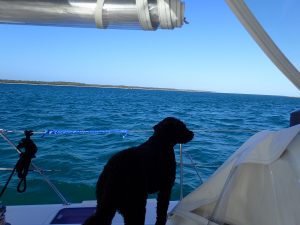 Fortunately the flooding tide was in our favour so we ended up sailing all the way to Pelican Bay arriving at 4:30. We passed a few yachts along the way and John spotted a dungong in the clear azure waters.
Must be the busy season as crowds of 4WDs, trailers and minibuses were lined up on both sides of Wide Bay bar harbour waiting for ferries to take them to and from Fraser Island.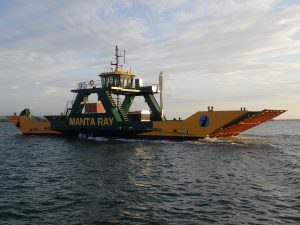 The three car ferries operated continuously , ferrying on demand until 6 pm.